Focus on the "Medmainer" Naoko Kajio
---
Hi, this is Daiki from the HR team, Medmain Inc. Today, let us introduce one of our members from our corporate team Naoko Kajio who is raising a 0-year-old child while working in recruitment and PR. She is taking on the challenge of balancing work and child-raising, and "How come can she work energetically and happily?" "What really is the source of her motivation?" "She speaks so powerfully about the image she wants her child to see… what is it like?" Here is her story!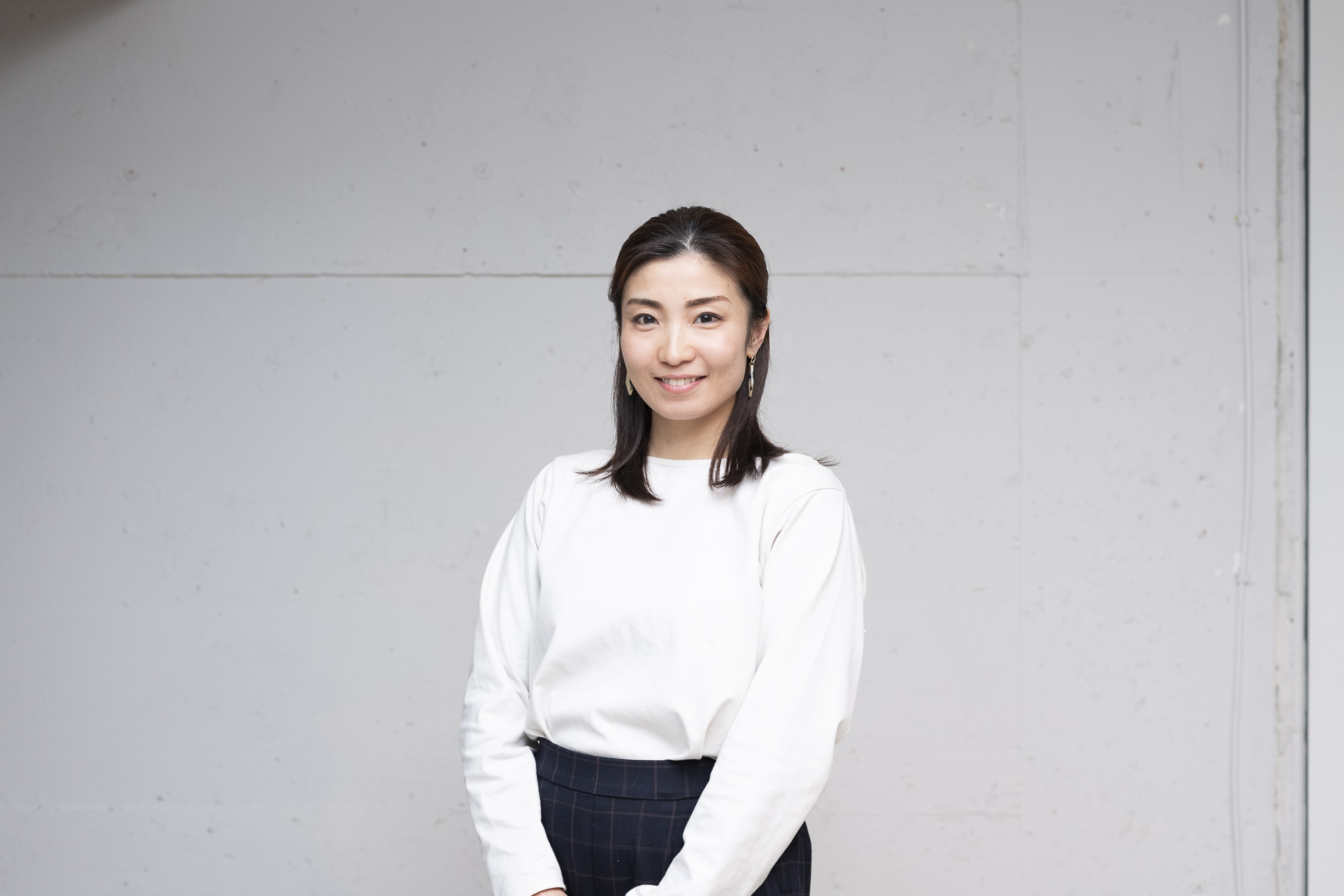 After graduating from Santa Barbara City College, she worked as a receptionist at Hilton Santa Barbara Beachfront Resort. After returning to Japan, she worked in the international-related department of a university, where she was in charge of international students, launched a members-only incubation facility, and worked extensively in local development planning before joining Medmain in October 2018. She is currently in charge of recruitment and PR. `
▼Please introduce yourself to start.
I was born in Oita Prefecture and grew up in a rural town with abundant nature. From a young age, I had many opportunities to listen to Western music and watch Western movies, which gradually increased my interest and longing to go abroad. When I turned 20, I decided to move to the United States and enrolled in the City College of California, and after graduation, I started my career at a resort hotel in California.
The experiences I gained during the years I spent in the U.S. have become a great asset for me. In the process of interacting with the various people I met there - people from diverse backgrounds with different ways of thinking and values - I was able to experience first-hand the "awareness" that "my common sense is never taken for granted" and the "fun" to "understand and absorb various values.
After returning to Japan, I worked in the international exchange-related department at a university and launched a members-only incubation facility before joining Medmain in October 2018. I have been involved in a wide range of work at Medmain since I joined the company, starting with general affairs during the start-up phase and now I am in charge of recruitment and PR work. Especially in recruitment and PR work, I often use English, and I am able to work in a global environment.
▼Joining Medmain Inc.
- Please tell us more about the story of how you decided to join Medmain and the episodes you experienced before.
The reason why I decided to join Medmain was because one of my benefactors introduced me to Medmain. As I was attracted to the company's "vision" of using the power of technology to solve the world's major social issues, and the "potential" of its products to have a significant impact on a global scale, I decided to apply for the job.
This was based on my two experiences. First, I experienced the disparity in healthcare when I lived in the United States. There is no health insurance system in the U.S. like in Japan, and the standard of medical care you can receive is determined by how much you can spend on medical care. I also witnessed the reality that there are many people who cannot even go to the hospital in the first place, even though they have diseases that can be cured with modern medical standards. In addition, I think the experience of having a close friend become ill had a big impact on me. I still remember the anxious days I spent worrying about what would happen to her. Through these experiences, I think my interest in medicine and awarenes of the issues gradually increased.
During the time, I was moved by the vision of Medmain. Thankfully, I was able to join the company, but at the same time, I found out that I was expecting a child. As a result of worrying about the inconvenience I might cause immediately after joining the company, I turned down the offer to join the company, even though I had a strong desire to work there.
However, I was told that "we will support you and would love to work with you," which made me very happy, and I decided to do everything I can to help "as a member of Medmain."
At the time, Medmain was just starting out as a company and lacked human resources, so I was responsible for all kinds of back-office operations. As a result, I was able to gain a lot of experience, which I feel has led me to where I am today. After a period of maternity leave, I returned to work in the fall of 2019, and have been working here ever since.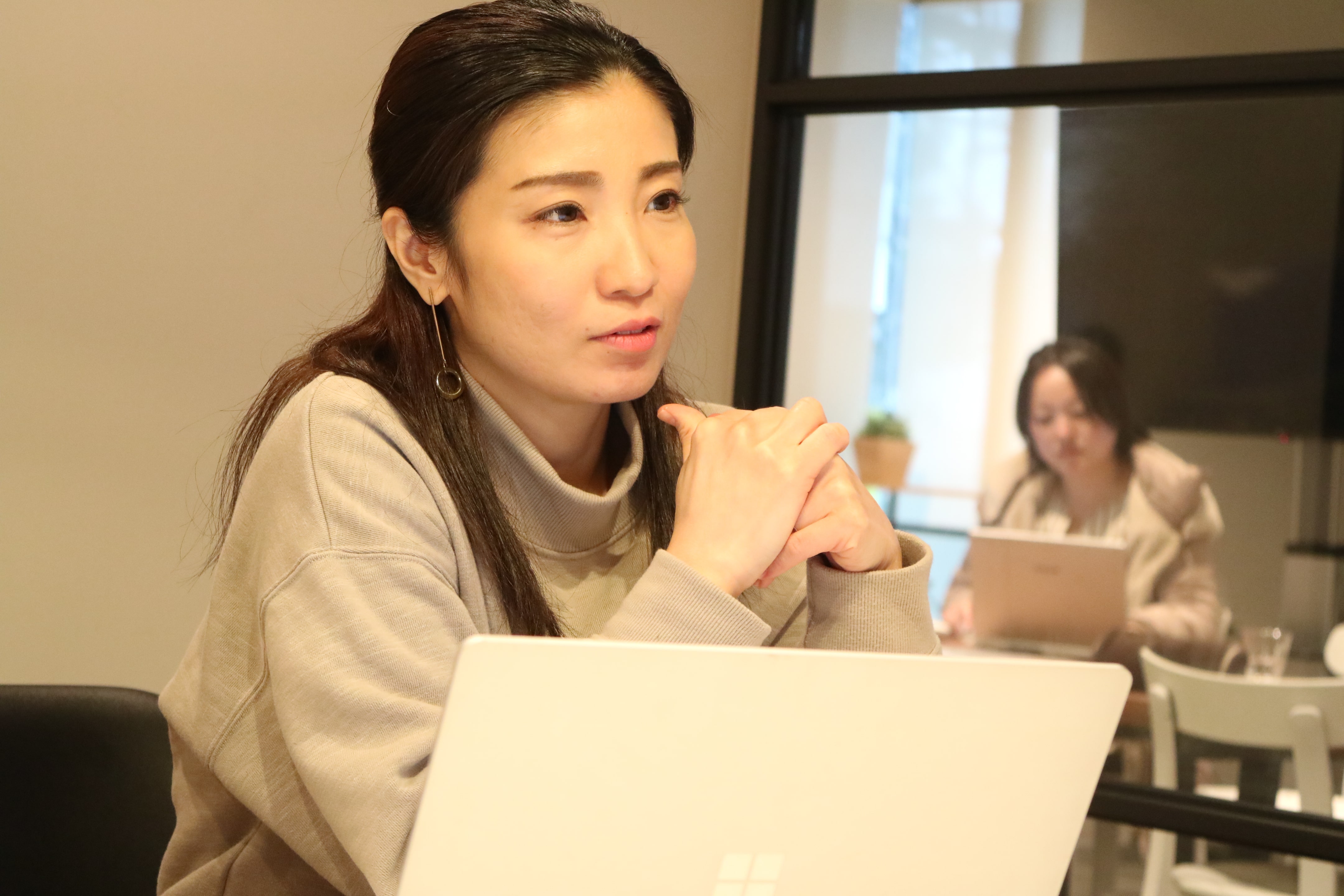 ▼ Working at Medmain Inc.
- Please tell us about your current work style.
I'm currently working in the Fukuoka office doing recruiting and PR work. I get up around 7:00 a.m., take my child to nursery school around 9:00 a.m., and then start working at the office. After I pick up my child from school around 5:00 p.m. and go home. After doing housework, I put my child to bed and work from home for about one to two hours on some days.
Medmain has introduced an exempt system and a flextime system as working styles, depending on the type of work. As a result, decisions on when to start/end work each day are basically left to the discretion of the individual within the prescribed working hours. Working from home is also possible depending on the situation. For example, when there is no choice but to work from home due to family reasons, such as when a child gets sick, work may be done remotely.
While I often find it easy to work here because of freedom and flexibility, I also feel that it is an environment that requires autonomy and planning skill in a high level. Teamwork is also important, so for example, I try to attend regular meetings face to face, and if I am not in the office for a long time, I try to communicate with my colleagues efficiently and effectively. I am always thinking about how to make my work more fulfilling. By adopting cutting-edge IT tools such as information sharing applications and video conferencing tools, we have created an environment where we can feel as if we are in the office anytime, anywhere.
- I know that balancing both work and child-rearing is not an easy thing to do, but what are some of the values and ideas that you believe?
I just want to work energetically. My parents were both working, and they both had their own business, so the image of them working energetically is still vivid in my childhood memories. Looking back, I think I may have had a kind of longing for them. My parents worked without a break, and although they looked very busy, they seemed to be enjoying themselves and looked very happy as well. Having grown up with such parents, I have a strong conviction that I want to show my children how to "work energetically" just as my parents did.
This is not something that I can manage by my own efforts. They can only be achieved with the support of family, colleagues, and the company. Medmain has a system to support you, and there are colleagues who understand your situation. Above all, there is a wonderful culture that respects and supports the diverse work styles of each individual. We are in the process of growing as a company, but we want to keep that kind of culture in mind.
I was attracted to Medmain because of its vision and the potential of its products, but now that I have joined the company, I feel that Medmain's working environment, where I can work energetically at any time, is also one of its major attractions. To be honest, there is a lot of work to be done, but I find it very rewarding.
▼At the end, to the future colleagues
-Please give a comment to those who are interested in joining Medmain.
The attraction of Medmain is not only that its products are pioneering, but also that it allows people from diverse backgrounds to work in an unconventional way. With the understanding of our members, I don't have to give up my career just because I have a child, nor do I have to give up child raising just because I have a job, and I am able to lead a fulfilling life every day. If you have skills or experience that you can utilize, please apply, even if you have left your job to raise your child. We are sincerely looking forward to talking to you.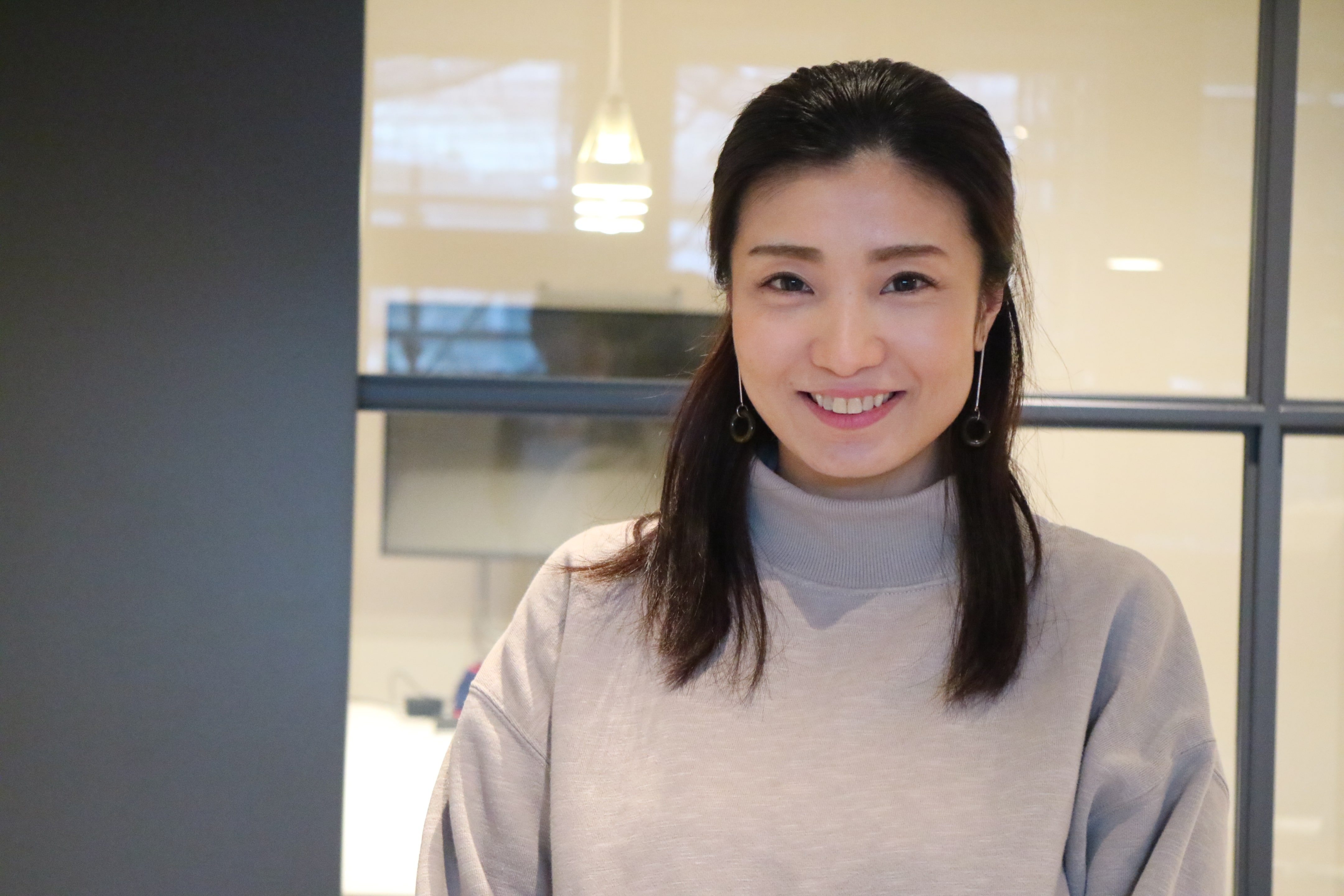 - Thank you!
She is doing her best in both work and raising her child. In this unpredictable environment, she continues to face each moment of her life and move toward her ideal state, while keeping the keyword "energetic" in mind. We will keep you posted on her future activities in Medmain Speaks.
---
Medmain is looking for people to work with us!
If you've read this article and are even a little bit interested in our company, please visit our recruiting site for an entry. *If you would like to have a casual interview (online/offline), please let us know.
---
▼ Medmain Inc.
---
●Official Website
●Facebook
https://www.facebook.com/medmain.net/
●Twitter
---
---
---
Tweet