Case Study of Installation at International University of Health and Welfare - Use of PidPort for Lectures for Students -
---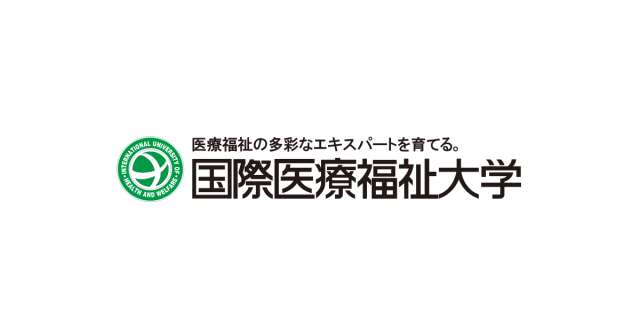 We interviewed professor Takayuki Shiomi of International University of Health and Welfare about why he introduced PidPort to his students for teaching and cases in pathology.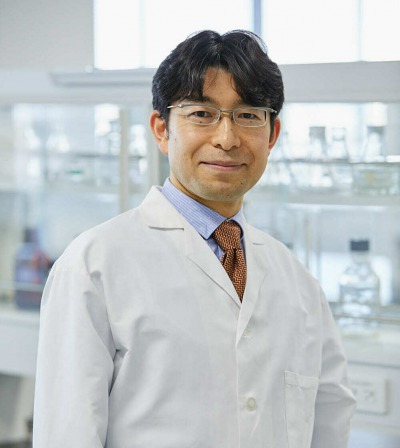 What kind of lectures and practical training are conducted using a microscope in the field of pathology at International University of Health and Welfare?
The General Pathology course at International University of Health and Welfare, School of Medicine consists of 15 lectures and 30 practical training sessions. The students learn about theory in lectures, and observe the specimens using a microscope or iPad provided for practical training sessions, and confirm actual disease by sketching.
Even before the use of PidPort, we had an environment where we could use microscopes for 140 students and 80 iPads for practical use. Each student was given microscope slides to observe specimens using a scanner system/manufacture's image streaming service and an image viewer app on the iPad. All the students could choose either microscope or iPad to observe specimens.
What made you decide to use PidPort for student lectures?
As mentioned previously, International University of Health and Welfare already had a better learning environment compared to other universities, but we felt that the existing image streaming service had various limitations.
In the pathology laboratory, there are many students who often stay beyond class hours to work on their studies, but due to the impact of COVID-19, it became difficult to accommodate learning hours outside of class. Therefore, the existing image streaming method, which is limited to microscopes installed in the labs and access via the campus LAN, has created limitations on the learning environment for students.
Also, in terms of preparation before the class and review after the class or for the test, the existing methods did not provide an environment where students could observe specimens anytime and anywhere. As PidPort is a web-based system with cloud storage and viewer for digital pathology specimens, we thought that all students could access digital specimens regardless of location or time with appropriate permission management, and this system would enhance the learning environment for the students by allowing them to use the digital specimens not only during the training, but also as materials for preparation before the training as well as for review.
What are the advantages of using digital specimens for lectures?
While it is very meaningful for students to observe specimens while familiarizing themselves with the use of microscopes, there are also many advantages of introducing digital specimens into pathology lectures.
In terms of the quality of lectures and practical training, improvement of students' understanding, and interactive learning, it is possible to realize a situation where each student can observe pathological specimens through PidPort using his/her personal PC or tablet, even in an environment where microscopes are not available for all students, such as during non-pathological clinical training or lectures in other departments.
In the past, when students were unable to smoothly find the view to observe in a specimen, the instructors had to support them by adjusting the view and focus of each microscope. However, with the use of digital specimens, both the instructors and the students can view the same screen and check the students' level of understanding while teaching.
From the point of view of the instructors and the assistants, the advantage of this system is that it overwhelmingly reduces the time and effort required to prepare glass slides for the number of students in advance (for example, if there are 50 kinds of specimens to be handled in a class with 100 students, 100 × 50 = 5,000 specimens are required). If the same specimens are prepared for each student, the number of specimens would be quite large. However, when better specimens become available for teaching materials, or when the specimens for teaching materials need to be replaced due to deterioration or fading over time, the digital specimens can be handled by replacing only the files.
In the past, the composition of teaching materials was biased toward HE-stained specimens, which can be prepared in large quantities, due to the time and effort required to prepare glass slides, but in addition to HE-stained specimens, digital specimens can be delivered to all students simply by preparing one slide each of special staining and immunostaining of the same sections. This makes it possible to improve the quality of education by enabling observation while comparing the differences of each staining.
There are many other advantages such as avoiding the loss of lesions caused by the glass slides given to each student when preparing specimens for a number of students as serial sections, and the ability to annotate specimens beforehand containing small lesions that are not easy for students to detect.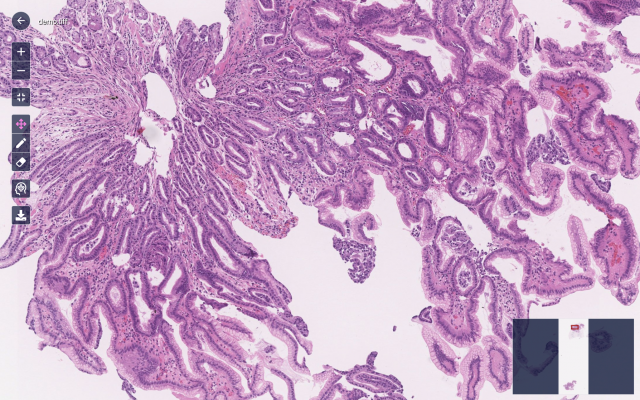 Please let us know your impressions of using PidPort during the lecture.
When we posted the link and account information for observing digital specimens with PidPort as a resource for lectures and practical training in pathology at International University of Health and Welfare School of Medicine, we found that the students were spontaneously learning by operating the virtual viewer without any special explanation. We believe this is because the students are already well accustomed to handling various digital tools, and the interface and usability of PidPort are well familiar to first-time users.
While existing similar virtual slide streaming services often limit access to campus LANs or require the installation of special applications on each device beforehand, the cloud/web-based PidPort allows all students with PCs or tablets to use the service without installing any special software, but just by accessing it with a dedicated account issued and given in advance using a common web browser, which makes it minimize the cost of introducing a new system.
A good understanding of how to use a microscope and the ability to view specimens under a microscope are still very important for students to learn, and I sometimes feel that a microscope and glass slides are better suited for viewing specimens such as large surgical materials. However, virtual slides are now at a stage where they can be fully utilized for student lectures, and there are many advantages such as improving the quality of lectures and practical training for students, solving the situation in which places and times of classes such as COVID-19 are restricted, providing a learning environment where students can prepare and review anytime and anywhere, and reducing the time and effort required for teachers and staff to prepare for classes.
---
---
Tweet