Focus on the "Medmainer" - Fahdi Kanavati
---
Hi! My name is Daiki, and I'm working in the recruitment and PR team at Medmain.
In this issue of Medmain Speaks, we feature Fahdi Kanavati from the engineering team.
As an AI Research Engineer, he is working on AI development of our product PidPort, a digital pathology image AI analysis solution. He currently lives in the UK and works remotely for Medmain.
Why did he decide to join Medmain?
How does he feel working remotely from the UK and what the working environment is like?
Let's find out!
Profile:Born in England, he moved to France for his undergraduate engineering studies, before coming back to London to do a Masters and PhD in Computer Science at Imperial College London. During his PhD in the area of medical image computing, he worked as a graduate teaching assistant in the computing department and as a part-time web developer. After his PhD, he worked as a research associate in the Cancer Imaging Group researching and applying machine learning algorithms to cancer detection and classification on medical images. He later joined Medmain to work on PidPort as an AI engineer/scientist. In his free time, he enjoys photography and filmmaking.
Please introduce yourself.
My name is Fahdi and I'm from England. I always had a strong interest in the field of computer science so I majored in that at Imperial College London. I have finished my Masters degree in Advanced computing that involved Machine Learning and I've also obtained a PhD in the field of Medical Image Computing.
I think my family is the big part of the reason why I became interested in the field of medicine. My father is an eye surgeon, and my brother has also gone on to pursue medical careers. However, I decided to go for "Medical and Tech" area because my computer-related interests were more important than my desire to be a doctor.
Later, I took a postdoctoral position and continued my research applying machine learning algorithms for cancer detection and classification on medical images.
Encounter with Medmain
So, please tell us the story of how you decided to join Medmain
As I continued my research in the field ofmedical image computing, working on cancer detection on CT and MRI images, I was intrigued by the potential of working with a startup that deals with AI. I was attracted to that because there are many challenges in a startup worth taking on, and most importantly because they have the potential to make a big impact on society.
When I was looking for a startup in a field close to my profession, I came across Medmain. What Medmain is doing, and its business domain matched my field of study, and the opportunity to work for a startup company was what I wanted, also I thought it was great that I can work fully remotely as an engineer while living in London.
During the interview process, I talked to several members of the engineering team, and I felt that each of them had a high level of skill and expertise, and I was convinced that I could make a big impact in a subject I was interested in at Medmain.
I've been at Medmain since November 2018, but midway through I left my academic research job and decided to commit full-time to Medmain from January 2020.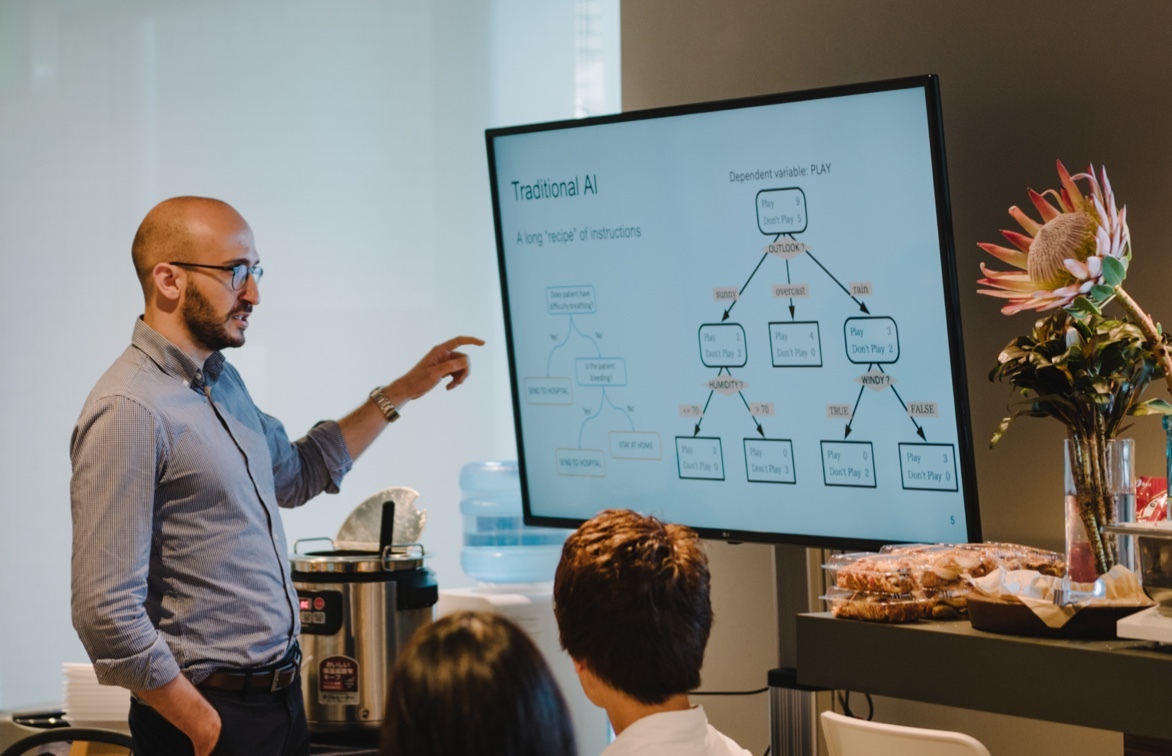 Working at Medmain
What kind of work do you do for Medmain?
I am involved in both research and AI engineering.
As far as research is concerned, my work as a scientist focuses on doing research and development for deep learning methods for cancer classification on histopathology images. I also work in collaboration with other members to write papers.
In terms of AI engineering, I am involved in the development of PidPort, which includes the deployment of AI models in production as part of the product.
I work in both areas, but the weight of the work varies depending on the situation, so I do it flexibly as needed.
By the way, I recently got a cat at home. She has been great company for me now and makes me work positively forward from home, especially in this situation of coronavirus breakout.
How do you feel about the working environment?
Even though each member of the team works autonomously, we still work together and collaborate. We are a diverse team, with different nationalities and backgrounds. In the beginning, there were only a few people in the team, including myself, but then the number of engineers increased, and I feel that we have grown a lot as a company.
When I first joined the company, I was still involved in academic research work at the university, so to be honest, there were parts of me that felt more distant from Medmain when I first joined. However, now that I work for the company full time, there are daily meetings with other members, there is a lot of communication, so I don't feel any of the psychological distance that I felt at the beginning. We each work in different styles, but I try to communicate as much as possible with the other members. Of course, there are times when we can't work at the same time due to the time zone difference, but we try to make sure to maintain clarity of tasks and roles, setting the purpose of the task for the day, the person in charge, the deadline, etc., and sharing the progress often.
There are times when I feel a little sad that I can't go to Japan as often as I would like to because of the distance. I would like to see the members in person more often, it was nice to have been able to meet all the members at the company's all hands meeting when I travelled to Japan last year. I am looking forward to the next opportunity for us to get together. It may be difficult to go immediately because of the coronavirus, but I hope to visit Japan again soon after this.
Finally, please give a message to our future members.
Do you have a message for people who are interested in working at Medmain?
This is a very good company for people like me who are interested in "Medical and Tech" or startups. We are a diverse team with a global mindset, we can work remotely, so you don't feel any inconvenience. The company has a flat and open culture that I can strongly recommend to others. I'd love to work with someone who deeply emphasizes with Medmain's vision and mission and wants to make a big impact in the world.
Thank you so much for taking the time to do this!
The engineers at Medmain work autonomously with professions. At Medmain, each member is responsible for his or her own responsibilities, so we do not define the working hours, work with at our own discretion.
Every member of the product development team has a high level of enthusiasm and a desire to make a big impact on the world, which I think is one of the characteristics of Medmain. We are able to move forward with our business as a "One Team" beyond the region. We'll keep you posted on Fahdi's future endeavors in Research & AI Engineering at Medmain Speaks.
-——————————————————————————————————–
Medmain is looking for new members to work with!
If you've read this article and are interested in Medmain, please make an entry through our recruitment site:)
We can talk at casual interviews (face-to-face/web) as needed.
AI Research Engineer
https://boards.greenhouse.io/medmainjp/jobs/4057476003
Career recruiting site
---
---
Tweet