Focus on the "Medmainer" - Ryunosuke Iwakawa and Yuki Yoshida
---
My name is Daiki, from recruitment and PR team at Medmain Inc.
Today, we would like to spotlight two of our members Ryunosuke Iwakawa and Yuki Yoshida. They have been working for Medmain since the foundation of the company and are fully committed to driving our business forward.
"How did they encounter Medmain…?"
"What made them decide to fully commit to Medmain..?."
"What are the things they want to do in the future?"
Let's find out.
Profile: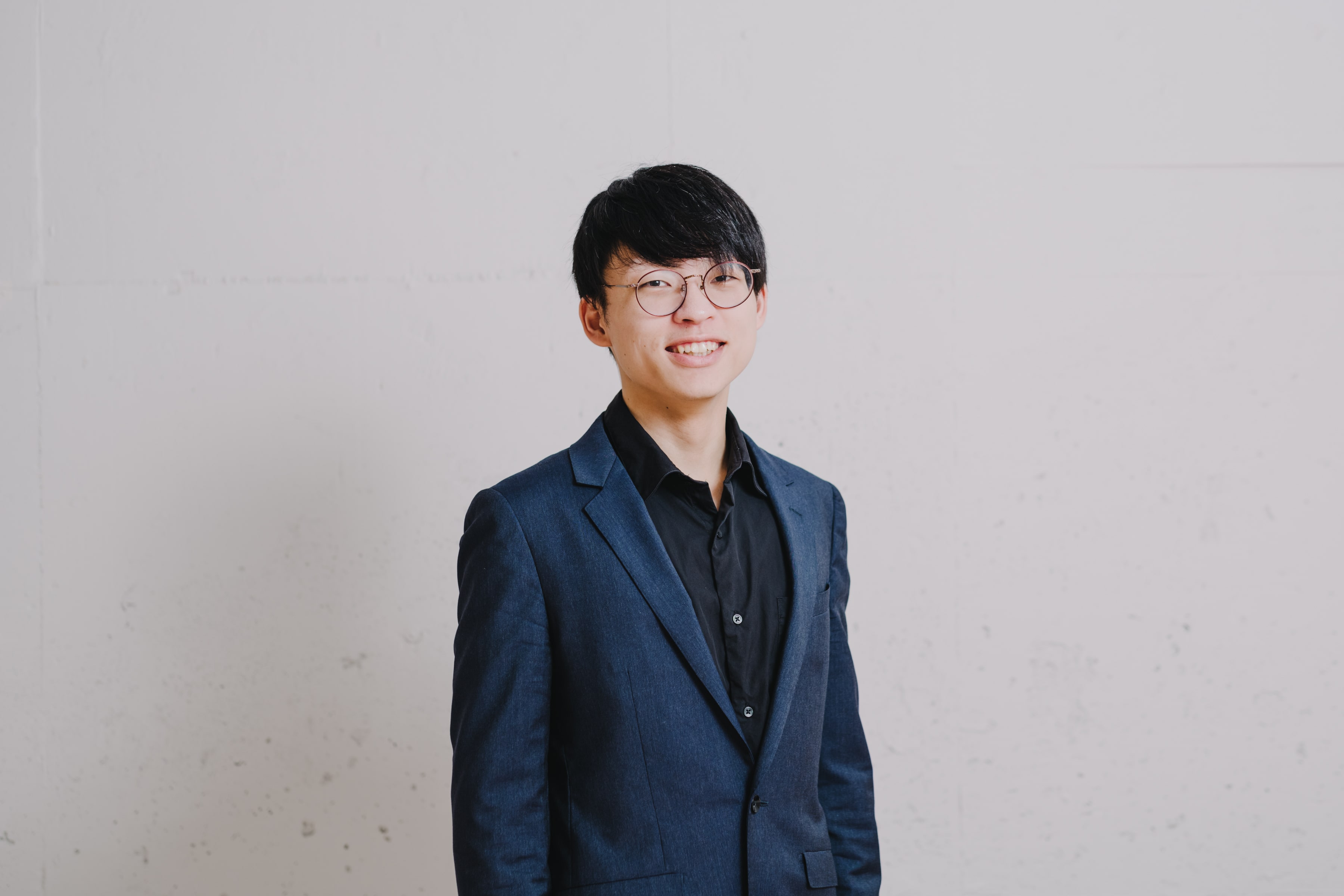 Ryunosuke Iwakawa A student in the Dept. of Art and Information Design, Faculty of Design, Kyushu University. He was a former team member of "Novigo", a medicine development project originating from the University, and has received several awards in pitch contests across Japan. He met Osamu,the CEO of Medmain Inc., and joined Medmain in January 2018, when the company was just established. Since then, he has been involved in internal and external operational coordination tasks, and has gained a lot of experience as the company has grown. As his side project, he launched a project called "Playrie" at the end of last year,developing a web service aiming for reducing the risk of sexually transmitted diseases, and is preparing to establish it.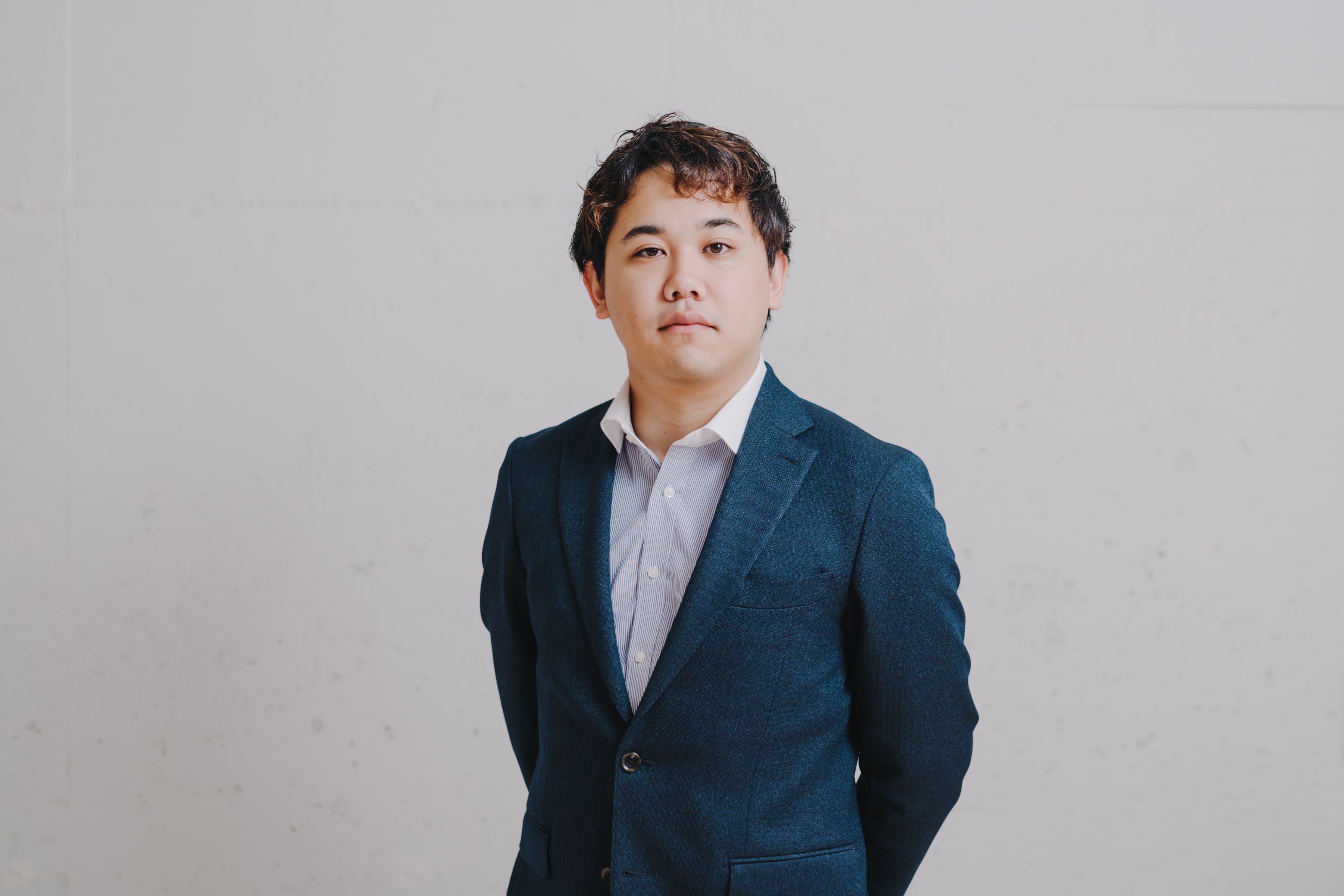 Yuki Yoshida A student at the Faculty of Economics at Kyushu University. He has spent six years in Hong Kong before graduating from junior high school. After entering Kyushu University, he launched a project for weather and disaster prediction using nano-satellites in collaboration with industry and academia, and received an award in a pitch contest. He met Osamu, the CEO of Medmain, right after the company was founded. He is in the sales team, performing domestic and international sales operations, doing coordination tasks with overseas institutions for joint research and other corabollations.
Encounter with Medmain
What made you both interested in "starting a business" and "startups" in the first place?
Yoshida: So, Your ultimate goal in life is to "become a football club team's owner," right?
Ryunosuke: Yes (laughs). Honestly I wasn't really interested in "entrepreneurship" before, it was my passion for football that led me to the world of "entrepreneurship".
Daiki: That's very interesting,please tell me more about it.
Ryunosuke: Since I was in elementary school, I had always dreamt of becoming a soccer player but then as a child I felt it would be so difficult to become a professional player so I decided to become a coach instead. But again, I found it's very hard to become one.
I decided to aim for becoming a football club owner and that's is my dream, my ultimate goal for now. I would be really happy if I could support my favorite sport, football from the standpoint of a business owner at some point in my life. It was when I was in high school that I decided to aspire to become a business owner, hopefully an entrepreneur.
Yuki: You do love soccer. Though you went to college and started developing games, right?
Ryunosuke: When I was a junior high and high school student,everybody was playing the smartphone game "Puzzle & Dragons" and that motivated me to learn programming after entering university. My ambition was to make an interesting games,then make a lot of money and become the owner of a soccer team.Unfortunately I had a setback along the way. I realized that there were a lot of people in this industry who had great skills, and again I thought it was quite difficult for me to compete with them in terms of programming skills. When I was looking for the next move, I got to know about the Kyushu University "Kigyo-bu" Entrepreneurship club(*).That is how I got here.
*Kyushu University Entrepreneurship Club ("Entrepreneurship Club") is which aims to help its students establish start-up companies.
Daiki: Thank you very much. What about you, Yuki?
Yuki: The thing I value the most is an environment where I can do what I want to do to my heart's content. That's how I was attracted to the idea of starting a business. I think my background has a lot to do with that. Back when I was in middle and high school, I spent six years in Hong Kong from the fourth year of primary school until I graduated from junior high school due to my parents' work. I was educated in schools in Hong Kong.
Daiki: I guess that the educational environment in Hong Kong is very different from that in Japan.
Yuki: Yes. I feel like that when I was in Hong Kong,the environment there was where I can do whatever I wanted to do to the best of my ability. Later,I returned to Japan and enrolled in a high school, one of a boarding schools.
Ryunosuke: It must have been tough living in a boarding school… Did you feel a big gap between your life in Hong Kong and what is was like when you were there?
Yuki: I did, there was very strict discipline and rules. Though I learned a lot and grew as a person there, I think those two different environments helped me with finding the things I value. I decided to enroll in Kyushu University because I learned that the Entrepreneurship club would be established in my first year of university. I wanted to learn about Entrepreneurship and take on the challenge of it.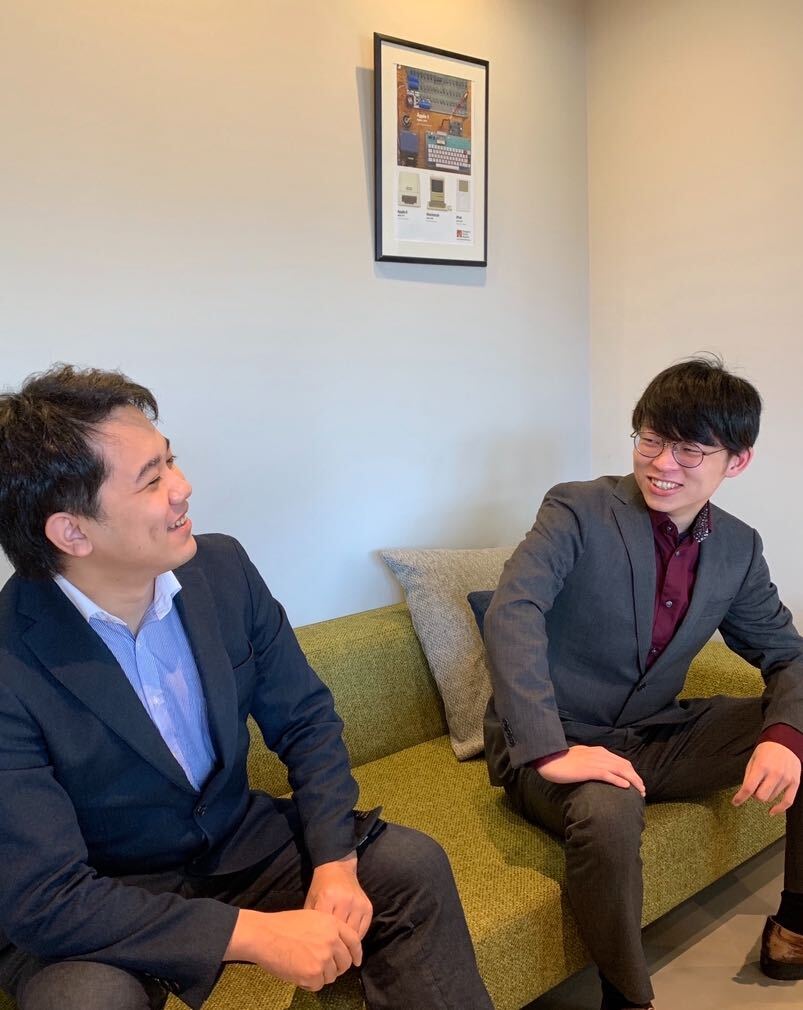 How did you get to know Osamu and Medmain?
Yuki: Oneday I received a phone call from an advisor of the entrepreneurship club, and he introduced Osamu to me. Since I have an experience of living abroad, I speak English. So I decided to join the company taking advantage of that. From the very beginning, Medmain was aiming to to become one of a global medical tech companies, so I have made business trips abroad or done translation tasks.
Ryunosuke: Right, you often went on business trips overseas.
Yuiki: That's right. As Medmain's business started to take off, I have gone on business trips abroad more often. In the early days of the company, Osamu used to use half of his house as an office instead of his current one, we literally forgot to eat and sleep and working for Medmain. I am very interested in the field of outer space, and Osamu is also well versed in particle physics, so in that sense, we enjoy conversations, at the same time I have learnt so many things from him. From my point of view, he is very quick-witted, it is like his age is unknown,I mean, in a good way. And that he has such a high level of concentration.
Ryunosuke: We know his actual age, but It's true that it might hard for people to identify his age for what he has done. I have wondered when he was sleeping. I think he does have a very high level of concentration. In the early days, there were times Osamu used to sleep in a closet, and it was like he did nothing but work, except when he was sleeping.
Daiki: So Ryunosuke,please tell me the story about when you joined Medmain?
Ryunosuke: I first met him at a press conference held on the campus at the time Medmain was just founded. I had always been interested in working in a field where there are social issues, plus I had always wanted to be an entrepreneur so I decided to join.
Yuki: Speaking of Ryunosuke, there is another episode of how his situation was like back then.
Ryunosuke: Haha, a poignant story. At that time I had been earning all my own living expenses, including food, rent, and utilities,except school fees as a university student, but I had quit all my part-time jobs as I become so passionate about the activities at the entrepreneurship, so I needed to make money.For those reasons, I started to fully commit to Medmain from the beginning.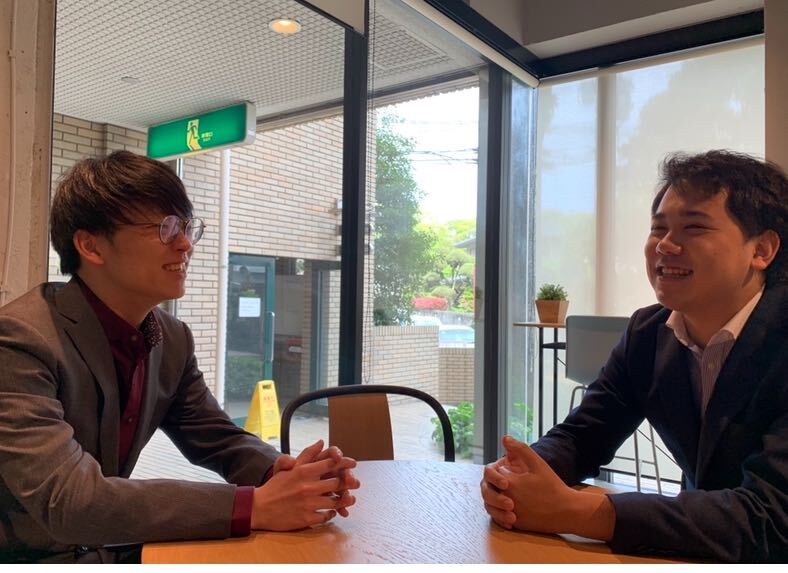 What they got from working for Medmain
So, Yuki has been performing front office works, and Ryunosuke is in charge of the back office, and I believe that you have experienced a wide range of operations until now.
Yuki: As I mentioned, I've worked mainly for international-related tasks where I've used my language skills. For example, sometimes I coordinate and conclude contracts with overseas partners, translate important documents prepared in Japanese into English, conduct overseas market research. As one of a sales team members, I went on a long-term business trip abroad for market research. Unlike in the early days at Medmain, we now have more business professionals here, so we sometimes visit clients with members who have a lot of knowledge and experience in the medical fields.
Daiki: Could you tell us about any memorable episodes from those days?
Yuki: I was based in Thailand from the end of last year to the beginning of this spring.I think I have gained invaluable experiences as a salesperson, such as having meetings with local pathologists and related organizations and conducting business negotiations.I would never be able to have those experiences if I continued being a student. Of course, there are hardships as I grow as a person,but thanks to the support and encouragement from my supervisors and colleagues, and with the company's growth, I keep making progress.
Ryunosuke: Sometimes though, we receive some tough feedback.
Yoshida: That's right. In fact, maybe about 90% of the feedback is harsh, but that encourages me and I learn a lot from it.
Daiki: Please tell us about you, Ryunosuke.
Ryunosuke: From my experience, I have overall knowledge of design, contracting, and pharmaceuticals, so I've done a wide range of work. There is one of a service "Imaging Center" (IC) of Medmain, where we digitizes pathological specimens, and I was once in charge of tasks done at the predecessor of IC.
Yuki: Now we have several staff members in Tokyo, Hiroshima, and Fukuoka, but in the beginning, we were really doing every single tasks by ourselves.
Ryunosuke: I think a big part of those operations make the current Medmain. As Yuki mentioned earlier, there are a lot of business professionals joined at Medmain now, so I feel like we've evolved as an organization.
Yuki: Indeed, in the second year since the company was founded, there are nearly 40% foreign employees, and the average of our age is now in early 30s.
Ryunosuke: In fact, Medmain now has members whose strength are engineering, human resources field, members with knowledge of accounting and management, pharmaceutical and medical fields. In the early days, there were situations where we had no choice but to cover everything ourselves, but now that we have a large number of specialists in various fields, I feel that my role is to connect and support them, while at the same time making use of the information and networks that I gained as a member who have participated in the company since its founding, and generate a synergy effects among the members as a whole.
Yuki: Come to think of it, we have evolved at an amazing speed.
Ryunosuke: Our members are with high abilities and skills, from different nationalities, age, and area of expertise, which would make us like one of those European club teams.
Yuki: You're likening it to football again..
The future they aim for
Lastly, please tell us what you are aiming for as "Medmainer".
Yuki: I would like to keep "Think deeply and strategically," in mind, which is one of the values of Medmain. Currently, my main work is in the area of sales and marketing, but I would like to be a salesperson who understands and identify "what kind of service/product is best for them" and promote accordingly and strategically. I believe that sales activity is the starting point of all business, so I would like to develop the necessary senses. I'm really blessed to be in the environment I'm in now, so I want to work hard to find what "my best practice".
Daiki: Thank you very much. What about you, Ryunosuke?
Ryunosuke: More than anything else, I would like to contribute more to solve global social issues in medical field. Again it's about football but in some african countries, there are cases that even the most talented players lose their lives at a young age due to the lack of medical infrastructure or they cannot access to necessary medical care.For those who have abilities, It is fundamental and important to live "safe and secure" life in order to demonstrate the abilities. I am excited about the work that will create brand new value in the field of medicine. The members at Medmain might have different motivations that made them to join the company, but we are all passionate about solving social problems through medicine and technology, and I want to work with someone who has the same thoughts to make Medmain even a bigger team that can bring big impact on the world.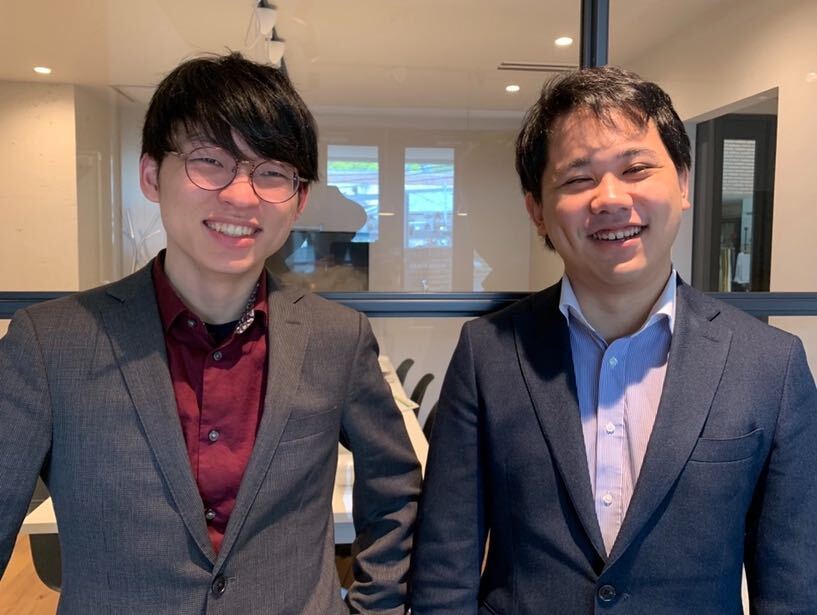 Thank you so much for taking the time to do this!
They have been working for Medmain since it was just founded and have seen the history of the company. It seemed that they feel that have been growing as a person in the process of many professional members to join this startup company and work together in pursuit of company's vision and mission.
Stay tuned to "Medmain Speaks" to continue finding out more about how the team of "Medmainers",with diversities evolves as a group of members like a club team.
---
---
Tweet